Would you like to build wealth and enjoy your money without guilt?
Most of us want to live abundantly but our self-limiting beliefs about wealth get in the way and leave us feeling anxious and conflicted every time we have to make a decision about spending, lending, or saving our coins.
There is a whole generation of millennials and genXers who are securing the bag, but whose dysfunctional money beliefs are keeping them stuck in a cycle of broke!
But we can learn to create boundaries that serve us well, and to make smart decisions that set us up for success (and positioned to make lots of money)!
Group Wellness Coaching | Mondays at 12pm - 1pm PT
This group meets every 1st, 2nd, 3rd, and 4th Monday of the month
Our Money Mindset Group is For...
The new generation of POC who are earning more money than their parents and have never had a wealth mindset modeled for them.

Anyone looking to experience a radical shift in their core beliefs about money and be held accountable for adapting new healthy money behaviors.

The person with money in the bank but can't figure out what to drank! #topshelf?

All of us who have felt conflicted about accumulating wealth and our commitment to supporting family and community.
What We're Reading
You'll be encouraged to purchase the recommended text as your coach will apply psychological principles to the concepts to maximize the strategies and lessons learned.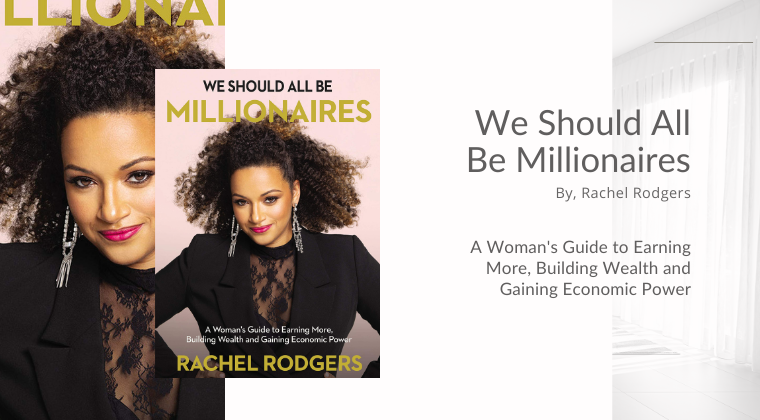 "We Should All Be Millionaires details a realistic, achievable, step-by-step path to become a millionaire within the next three years. In this book, Rachel Rodgers—mother of four, attorney, business owner, and self-made Black millionaire— shares the lessons she's learned both in her own journey to wealth and in coaching hundreds of women through their own journeys to seven figures."
4 Live Coaching Sessions Each Month. You'll gain access to weekly interactive coaching sessions led by one of The Black Girl Doctors. Groups meet for an hour every 1st, 2nd, 3rd, and 4th weekday. You'll get to remain in your coaching group until you meet your goals. There are no commitments and you can cancel at any time.

Accountability and Community. You'll have access to a private community where you'll be encouraged to network, share your goals, and build genuine relationships with the other group members in between sessions.

A High Touch Approach. Our small intimate groups are capped at about 25 active members who meet virtually over zoom to provide you maximum attention and support. Your coach will know you by name, help you track your growth, and push you to dream bigger and live bolder.

Self-Paced Growth. Stay for 1 month, stay for 2 months, or stay for 3+ months. You'll learn at your own pace and stay in the group until you meet your targeted goals. The power is in your hands, but as always, our goal is to get you in, help you grow, and then get you out living your life.
Meet Your Coach
"Let's get serious about living in abundance!"
Licensed Psychologist
Dr. Jacquelyn Johnson
Dr. J is a southern California native who enjoys getting lost in a good book or being transported to a happy place with music that speaks to her soul. She is known for my boisterous laugh which often announces her presence, and any place in nature is what recharges her spirit.​ She's embarked on her own radical money mindset journey and is excited about sharing how principles of psychology shed light on this transformation and can propel your growth in this area. Her hope in life is to help as many as she is able to experience true freedom and live their best life. She seeks to utilize all that has been graciously poured into her, to support others in becoming all that they were meant to become.
This coaching group won't be right for everyone.
This is a no judgement zone, but this probably won't be your cup of tea if...
You don't place a lot of value on accumulating wealth or earning high monetary compensation for your gifts. This isn't a goal for everyone, but we like to talk about securing the bag and gathering up all our coins in this group.

You don't really like people or group stuff. No shade, but we'll be encouraging members to be interactive and participate in this group so, if in general, the thought of talking in a group setting or networking annoys you, this probably won't be the best experience.

You are looking for a business strategy. This isn't business coaching, it's mindset coaching. You can have all the strategy in the world, but if your mindset ain't right, it won't matter. This group is best suited for those who know what they "should" or "could" be doing but haven't been able to make it happen and they suspect some limiting beliefs may be the culprit.

You are in a lot of emotional pain and would be better served by seeking therapy before working on money mindset. We love you and want to encourage you, but value mental wellbeing over everything else. You won't be able to focus on money mindset if you are in distress. Please do not use this as a substitute for therapy. Check out our other resources to get the support you need and join coaching when you have the energy to fully engage.
Coaching Schedule | Mondays at 12pm - 1pm PT
This group meets every 1st, 2nd, 3rd, and 4th Monday of each month on Zoom

To protect everyone's privacy, coaching sessions are not recorded
Group Wellness Coaching for $250/ Month
That's less than $65 per session! You'll get 4 coaching sessions each month with no obligation to continue. Cancel anytime before your next billing cycle.
What happens after I purchase?

Immediately after purchasing, you'll get instant access to our member's only portal that details everything you'll need to get started. You'll receive calendar invites and zoom links for your coaching sessions, details for purchasing the suggested text, and access to the community forum. You'll be all set up to attend your first session in a matter of minutes.

What if I change my mind? Can I get a refund?

For a limited time we are offering a free 7 day trial which allows you to attend your first coaching session free. After that, we adhere to a strict no refund policy. However, you are never locked into a long term contract. You can cancel your membership at any time before your next billing cycle. You'll maintain access to all resources until the end of the current cycle.

The date and time of the group don't work for me. What are my options?

The coaching group dates and times have been carefully selected and will not be adjusted. You should ensure that you can make yourself available for at least 3/4 sessions per month prior to joining to maximize your investment. If you have a request for us to host groups at a different time, you can email your request to support@theblackgirldoctor.com and we will take it into consideration for future groups.

Do I have to be a Black woman to join?

Nope. We build our program with the needs of professional Black women in mind, but we welcome and affirm folks from all racial/ethnic and gender identities. If our message resonates with you and you believe that #BlackLivesMatter, come on and grow with us!

Is this similar to therapy?

Coaching and therapy are two different things! It is important to note that while our coaches are licensed psychologists, you will NOT be under their care as a patient. Instead, you will be part of a coaching group where you will get guidance on a specific issue and/or learn new skills that you'll be able to apply to your life. Coaching should not be used as a substitute for therapy where you would build a personal relationship with a provider, get a custom treatment plan, and be closely monitored. Thus, your coach's guidance should not take the place of your current therapist or physician. If you need help with emotional pain or are interested in starting a therapy journey, your coach will be able to provide you with appropriate resources.

Do I have to purchase the recommended text?

We strongly encourage members to purchase and read the recommended text, but no, it is not required for participation.

What if I can't make a session? Will it be recorded?

Unfortunately, no. To maintain the privacy of our members, sessions are not recorded. You should plan to attend at least 3 out of the 4 weekly sessions each month to get the maximum benefit.

How does cancelation work? If I cancel mid-month, will I get a refund for unused time?

Your membership is billed on a monthly cycle based on your enrollment date. If you join on May 7th, you will be billed every month on the 7th until you cancel. You can cancel at any time before your next billing cycle. While we do not pro-rate your membership fee, you will maintain access to all resources until the expiration date of you membership.

Will I be able to reach out to my coach if I have questions?

Yes. We keep our group sizes small so our coaches can get personal. You will have your coaches direct email address and will also be able to communicate with her in the private community forum. Your coach will let you know her preference.
Will you join us?
Don't allow unexamined messaging and narratives about money to keep you from what's rightfully yours!